Opening Ceremony at Christmas Village in Baltimore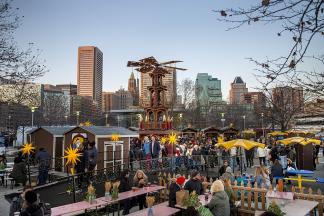 Time: 3:30pm to 5:00pm
Join us on November 25, 2023, at 3:30 PM, as the original Christkind from Nuremberg arrives by boat at Baltimore's Inner Harbor. The Christkind will walk down the promenade, accompanied by the Raven's Tent, creating a magical atmosphere. At 4:00 PM, our Opening Ceremony begins in our heated tent. The Ceremony will include the Christkind's iconic prologue as well as an enchanting performance by the Reservoir High School Chamber Choir.
So, what are you waiting for? Come and celebrate at Baltimore's authentic German Christmas Market! Visit www.baltimore-christmas.com to get more information about happenings and the vendors, or simply connect on Social Media (@bmorechristmas).
Facebook: https://www.facebook.com/bmorechristmas
Instagram: https://www.instagram.com/bmorechristmas 
TikTok: www.tiktok.com/@bmorechristmas
Dates of Christmas Village in Baltimore 2023:
November 18th - December 24th, 2023
Closed: Nov 20th, 21st, 22nd, 27th, 28th, Dec 4th, 5th, 11th, 12th
Hours:
Sun. - Thur.: 12 pm – 8 pm
Fri. - Sat.: 12 pm – 9 pm
Thanksgiving Day: 12 pm – 5 pm
Christmas Eve: 12 pm – 5 pm
Location: 501 Light Street, Baltimore, MD 21230 (West Side of Baltimore's Inner Harbor)
Admission: Weekdays, the outdoor area, and the first weekend are always free of admission. For weekend tent admission please check www.baltimore-christmas.com for more information!
Event Contact
Event Details
Saturday, November 25, 2023, 3:30 PM – 5:00 PM
Free
Location
Add Event To Your Calendar