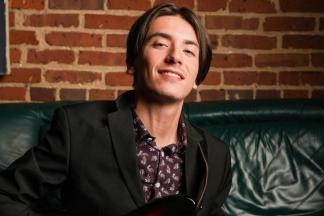 The Brandon Born Quartet features new compositions written for them, along with those by Kevin Eubanks, Tadd Dameron, and Larry Willis. This group's history of playing together is reflected in their chemistry and interaction. Don't miss Brandon's special debut as a leader!
Brandon Born, electric guitar
Brendan Brady, drums
Christian Hizon, trombone
Jeff Reed, bass
Brandon Born is a guitarist from Maryland, currently studying Jazz Guitar Performance at the Peabody Conservatory in Baltimore. Brandon's journey has been marked by dedication and a relentless pursuit of excellence. He started playing guitar at age 13, and by age 16 he was obsessed with jazz greats such as Pat Metheny, Joe Henderson, Miles Davis, and Chick Corea. Brandon has collaborated with great DMV musicians such as Tom Williams, Blake Meister, Jeff Reed, Gary Grainger, Jevon Rushton, Eric Harper, Frank Russo, Eddie Hrybyk, Brendan Brady, and more.
In-person seats: $20 / $10 students
Attendees receive a link to the recording to view for one week.
Streaming pass: $10
The link will be sent out to live stream participants 15 minutes before the show and will remain active thru Nov. 2
Event Contact
An die Musik
410 385 2638
Event Details
Tuesday, November 21, 2023, 7:00 PM – 9:00 PM
Location
Add Event To Your Calendar