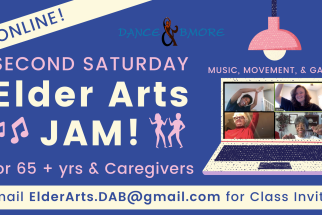 Saturday, June 11, 2022, 10:00 AM – 11:00 AM
Repeats monthly on January, February, March, April, May, June, December on the second Saturday -- until Sat Jun 11 2022.
Virtual Event!
Free
You're invited every Second Saturday at 10AM to Dance & Bmore's Online Elder Arts Jam! It is a creative space for senior citizens to dance, talk, share recipes, stories, laugh, and sing.
Classes include:
Music, Movement, and Games
"Did You Know" Health Tips segment featuring research and the latest health news for the aging.
Open mic segment for you to share songs, poetry, and memories.
Dates: