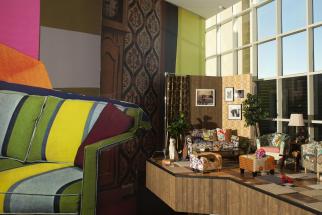 Sunday, May 29, 2022, 10:00 AM – 5:00 PM
Repeats weekly Sunday and Wednesday and Thursday and Friday and Saturday -- until Sun May 29 2022 -- except Thu Nov 25 2021, Sat Dec 25 2021, Sat Jan 01 2022.
Baltimore Museum of Art
Free
Mickalene Thomas' immersive two-story installation transforms the BMA's East Lobby into a living room for Baltimore reflective of Thomas' signature aesthetic influenced by 1970s and 1980s motifs. The experience–the most expansive commission undertaken by both the artist and the BMA—extends onto an enclosed terrace, where Thomas has curated a presentation of works by artists with ties to Baltimore. Featured artists include: Derrick Adams, Zoë Charlton Theresa Chromati, Alex Dukes, Dominiqua S. Eldridge, Devin N. Morris, Clifford Owens, and D'Metrius John Rice.