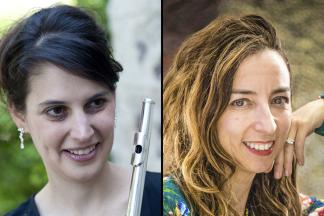 Flutist Lori Kesner and pianist María José Parker present Daydreams of the Flute, which takes the audience on a musical journey of the flute fantasia repertoire. The program includes a broad range of styles in this free-form genre, including the Baroque Fantasies of Telemann, the gypsy-inspired Airs Valaques, the dance-themed Fantasía para un gentilhombre (Rodrigo) and Tango Fantasia (Gade), as well as a favorite from the opera cannon: Fantaisie brillante sur 'Carmen.'
Jacob Gade: Tango Fantasia
Joaquín Rodrigo: Fantasía para un gentilhombre
George Philipp Telemann: No. 3 from Twelve Fantasias for Transverse Flute
Franz Doppler: Airs Valaques Fantaisie pour Flute et Piano, Op. 10
Robert Schumann: Fantasiestucke, Op. 12
François Borne: Fantaisie brillante sur 'Carmen'
An award winning musician and scholar, Lori Kesner enjoys a distinguished and active career as both a performing flutist and world music lecturer. After earning both master's and doctoral degrees from the University of Cincinnati College-Conservatory of Music (CCM), Dr. Kesner was appointed as Visiting Instructor at Miami University, Ohio. She additionally accepted a faculty position at CCM as Director of the Andean World Music Ensemble and Preparatory Instructor of Flute Performance. In 2005 her professional activities took her to Maryland, where she currently serves on the performing arts faculties of UMBC, Washington College, and is a frequent world music lecturer for a cultural series at Johns Hopkins University.
A Spanish native, pianist María José Parker has established a versatile career that encompasses critically acclaimed solo, chamber, and orchestral appearances. She has performed widely in the United States, Spain, Morocco, Jamaica, Germany, Austria, Romania, Thailand, Albania and Senegal. Notable performances include Mozart's Concerto No. 21 with the Delaware County Symphony, Beethoven's Triple Concerto with the Wilmington Community Orchestra, and Turina's Rapsodia Sinfonica for piano and Orchestra in Tirana as well as recitals at the Museo del Prado in Madrid and the Universidad Pontificia in Salamanca, Spain. María José Parker has also collaborated with the Orquestre Philarmonique de Maroc under the direction of conductors Benoit Girault and Rachid Regragui.
$15 general admission, $10 seniors, $5 students. Ticket availability will be announced.
Earl and Darielle Linehan Concert Hall is easy to visit, with plenty of free parking. Please visit here for directions and parking information.
Event Contact
Event Details
Friday, February 17, 2023, 7:30 PM – 9:00 PM
Location
Add Event To Your Calendar