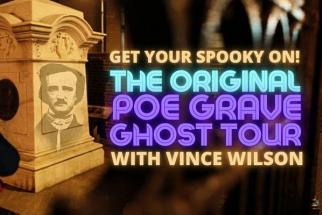 About this event
Poe's Magic Theatre is conducting ghost tours in the Westminster Burying Grounds at the corner of Greene & Fayette.
Tours will start in the lobby of the hotel. Get there early and have dinner at the LB Tavern before the tour begins. The Burying Grounds are only a 10 minute walk away.
Each tour will start at the corner of Greene St. and Fayette - right by the Poe Grave itself!
Once you reach the Burying Grounds you will learn:
The history of the Burying Grounds