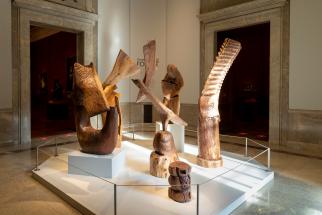 Sunday, November 28, 2021, 10:00 AM – 5:00 PM
Repeats weekly Sunday and Wednesday and Thursday and Friday and Saturday -- until Sun Mar 27 2022 -- except Thu Nov 25 2021, Sat Dec 25 2021, Sat Jan 01 2022.
Baltimore Museum of Art
Free
Thaddeus Mosley (b. 1926, Pennsylvania) transforms wood into inventive abstract forms that source inspiration from the art of the African diaspora, jazz, and the European modernist avant-garde. Using only a mallet, chisel, and masterful joinery techniques, Mosley, largely self-taught, reworks felled timber from local sawmills into monumental biomorphic expressions inspired by ancient and modern cultures from around the world.