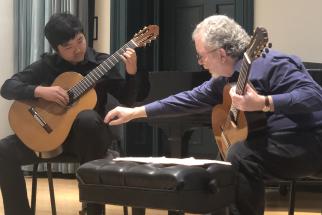 Free
Legendary guitarist and pedagogue, Maestro Manuel Barrueco, will teach his yearly class to "Pre-College Guitar Virtuosos" on October 25, 2020. The class will take place online this year because of Covid-19.
Performers in the class are: Hejia Zhu (13), Muxin Li (13), Chao Tang (14), Qianzheng Wang (15), Reade Park (15), and Erik Wang (16)
At the end of the class, there will be a Q&A session with Maestro Barrueco where auditors can submit their questions.